About
HIGH QUALITY    NON-DISPOSABLE / RE-USABLE PRODUCT    WOMAN-OWNED
My design for the quickie cap® began with my desire to find a quicker, easier way to confine and protect my own hair.
After 2 years of designing, prototyping, and sourcing, I received a patent and began sharing my design with you, my cherished customer. 
As an Environmental Scientist, I am proud of having created a shower cap that lasts for years and is therefore environmentally friendlier than disposables and other short-lived plastic shower caps.
-----------------------------------------------------------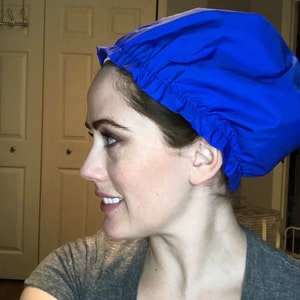 Jerilyn
★★★★★     "This seller is so sweet and kind! She answered a bunch of questions I had to get the right product and fit. The product is so genius and I HIGHLY recommend getting one if you use shower caps. I would usually have to put on a headband before my shower cap. This is so much more convenient and I love the flexibility of the material. A high quality product and a wonderful seller! BUY ONE!"
(Click here to see these and other reviews on Etsy.)

Gail
★★★★★      "
LOVE this shower cap! We all came here probably looking for a better shower cap because everything else out there is too small (despite it being the right head size measurement) or doesn't fit all of our hair. In addition to this cap solving these problems, it also comes in cute designs and it's machine washable. Gayla, the creator and business owner, is so kind and willing to help out however she can. Thank you for the awesome cap and service, Gayla! Highly recommend!"
----------------------------------------------------------
All quickie caps® are made in the USA. The whimsical prints are limited edition designer fabrics that are 100% cotton laminated or "waterproofed" by polyurethane† and have a polyester/spandex band. The solid colors are waterproof breathable nylon.
†Fabric manufacturer assures CPSIA compliancy and BPA-free, phthalate-free laminate.
quickie cap® ComfyBandNoTuckCaps is owned and distributed by:
Plan C Products, LLC
1000 Government Street, Suite E
Ocean Springs, MS 39564