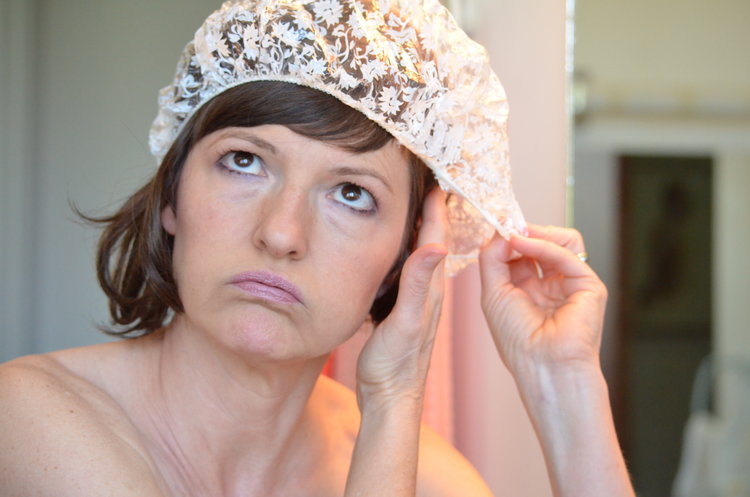 Suffering from shower cap fail?
"Uncomfortable" "Ruined my silk press" "Won't hold all my hair" "Lets my hair slip out" "Crushes my blowout" "Leaves dent marks on my forehead" "Shifts" "Falls off" "Cheap plastic" "Molds" "Stinks" "Done shoving my hair into a turban"
We hear you, girl! SHOP NOW
quickie cap® is nothing like the old school shower cap because our caps go on without tucking!
The wide stretch band is so comfortable, you'll forget you have it on!
Oh, and did we mention, it's machine washable?!?
We've got your hair covered...
THE WORLD'S ONLY SHOWER CAP WITH A WIDE STRETCH BAND, MAGNETIC SNAPS AND VELCRO®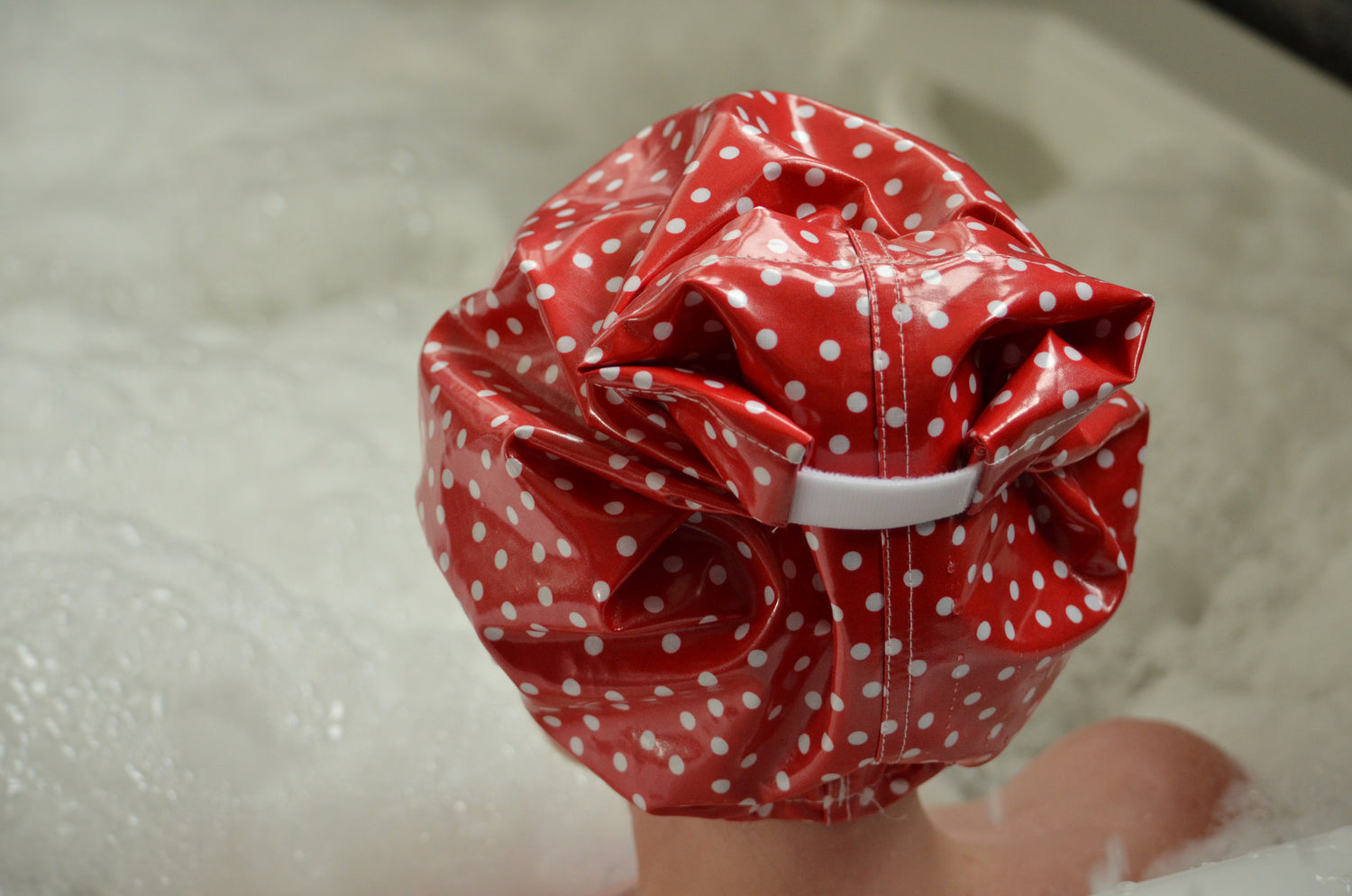 ★★★★★ The last shower cap you'll ever buy...
No shift.
Won't fall off.
No dent marks in your forehead.
Shop Now
But don't take our word for it - Read the reviews!
 ★★★★★ nq9ft66vglc6qifq
VERIFIED ETSY BUYER √
Indeed, very easy to put on considering I have almost waist-length hair. I prefer this shower cap to the shhhower cap, kitch, turbella, drybar etc.. I have tried several of the newer style caps. Very impressed. Liked the minimal packaging.

Update: washed it as per instructions, came out great. Would highly recommend this over anything terry lined as they start to smell very quickly. So far, best shower cap I've used.
★★★★★ AbC
VERIFIED BUYER √
I got it and I love it!! Super easy to use and it's more water resistant than I realized.
★★★★★ Briela
VERIFIED BUYER √
Wow! Fast shipping. Thanks!
★★★★★ natasha
VERIFIED ETSY BUYER √
I love this shower cap! I have very long and thick hair - it all fit in with room to spare. Very easy to use and is extremely comfortable and very durable.
★★★★★ Beth
VERIFIED BUYER √
This cap (I got the wine) feels more like an accessory than a shower cap! got mine just in time for the horrible weather and wore it in the rain and snow. Seriously great cap for the shower, too. Don't hesitate to buy — worth every penny!
★★★★★ Marian
VERIFIED BUYER √
My daughter told me about this product and I was reluctant to buy it because I've been using cheapo shower caps for years. My hair is thick and coarse but it's only chin length so I didn't see what the big deal was. Now I get it! This really is better, I have to say. More comfortable, gets all of my hair inside and it's not droopy like the cheapos. great product for sure
★★★★★ JennB
VERIFIED BUYER √
Bought one at my fitness center for water aerobics. First time I tried to put it on, I did it upside down but after the first couple times, easy peasy!
★★★★★ Bluesgrrl
VERIFIED BUYER √
Interesting shower cap! Works well. Cute and doesn't leak.
★★★★★ CCooper
VERIFIED BUYER √
I find it absolutely perfect for hot oil treatments. You put the cap on first like you would a hairband (which is where I start) Then apply whatever treatment, then pull the cap up and secure it. EZ…I can then walk around without getting any nasty oil on my hands or towels. It goes straight into the shower with me, gets turned inside out and shampooed along with my hair. This is a made-to-last cap that can be used for more than one purpose. Love it.
★★★★★ Maria
VERIFIED BUYER √
Great gifts! Just bought 2 more.
★★★★★ MOMO
VERIFIED BUYER √
I used mine in the hot tub last night and forgot I had it on. Yes! It is comfortable
★★★★★ath
VERIFIED BUYER √
Best shower cap ever! I use mine for shaving, bathing, showering and washing my face. I have somewhat curly hair so when I straighten it, I want it to staaayyy that way. lol this cap keeps my hair completely dry in the shower and definitely helps against humidity.
★★★★★ NicLCol
VERIFIED BUYER √
I work out in the mornings before work and used to wrap my hair in a towel. ONCE, I tried a shower cap and threw it away because my hair is straight and would constantly slip out of the sides. Well the towel wasn't much better because it matted and crushed my hair and was so annoying to deal with in a hurry. I am seriously happy I found this site.
★★★★★ YLCT
VERIFIED BUYER √
Works great! Came back to buy one for my hubby bc he's been using mine (hahaha-I have the owls!) Got him the blue but you need more colors!
★★★★★  JVo
VERIFIED BUYER √
Saves me so much time.
★★★★★ momlyfeluv
VERIFIED BUYER √
I use mine in the pool when I'm watching the kids. When they splash and get crazy, I don't have to worry about my hair! Very handy.
★★★★★ Ryan S.
VERIFIED BUYER √
My wife and daughter really love the product. It was a great find on my part and worth the extra money compared to the other caps that are out there.
Question: Will this work for my hair? Answer: Click Play Below!
"Worth every penny!"
Beyond Shower Cap

Use quickie cap® to quickly wash your face without the hassle of bands, pins, clips & towels that fall off.

Shave, sink your neck into a HOT TUB -- even works for water aerobics!

Silk Press? Blowout?

$$$$ Trying to keep your tresses beautiful for as long as you can??

Water and steam are NOT your friends!

(But your quickie cap® will quickly become your bestie.)

No more creases!

quickie cap® is designed to work without binding your hair.

That means: NO MORE pin or ponytail creases in your 'do!

Remember! No ponytail! No bun!
Rather pay with PayPal?
No problem! Click on the button below to buy on Etsy & pay with PayPal.